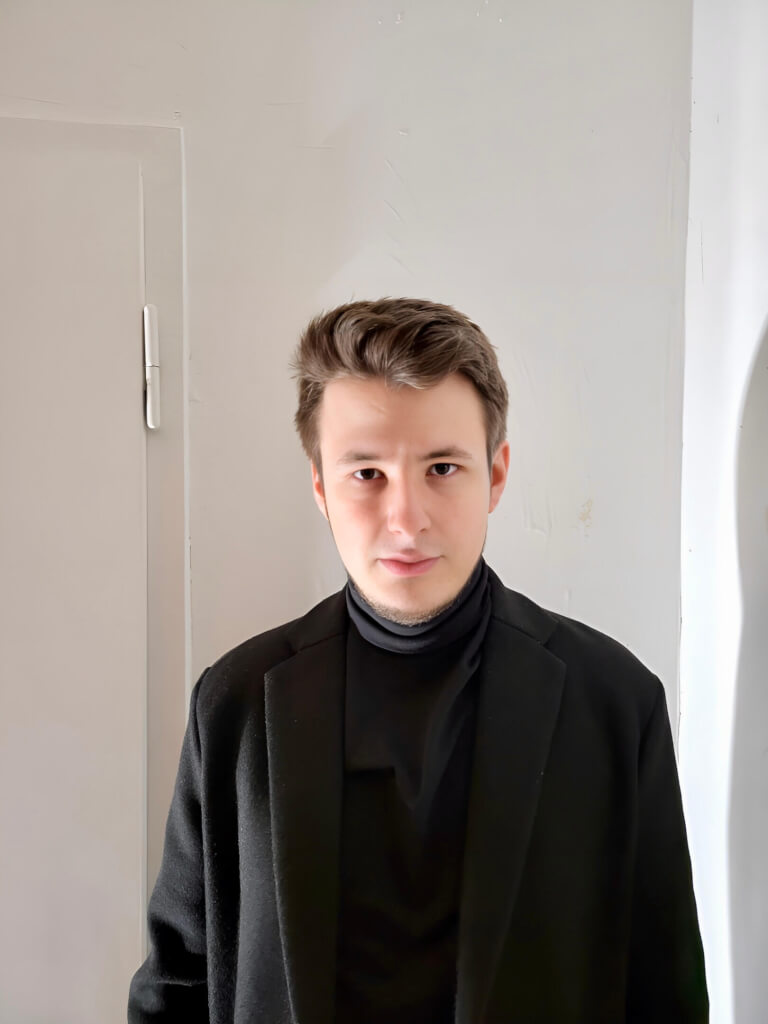 DE | EN
Everything is about story.
A life full of ups and downs shaped Tom Stephan into an artist. Growing up in difficult circumstances, he lost contact with his entire family after a court ordered him to move to a youth welfare facility without detours. For the next seven years he lived in Altensteig in the Black Forest, where his neighbour at the time, Heide Simon, gave him voluntary piano lessons. Ten years later, he dedicated his ten-minute piano work Variations in f minor to her.[1].
After catching up on his secondary school leaving certificate at the Realschule in his home, he then transferred to the social science grammar school in Nagold with the intention of studying psychology. During his school years, Tom Stephan held his first own art exhibition [2] and gained experience in public piano playing [3][4][5][6]. Due to his age, he could no longer stay in the group home. While the institution threatened to move him to a homeless shelter if the funding ceased, Tom Stephan left high school without graduating. He sought legal support and filed an injunction to prevent this. A few weeks later, he found his first flat of his own in Altensteig. As a pupil, he then received unemployment benefit II, lived off his child benefit and the wages from a weekend job [7].
Tom Stephan attended the commercial vocational college in Nagold in the next school year, took the delta exam of the DHBW Stuttgart at the same time & after passing it, he applied for dual courses of study in tax consultancy. In the second year of the vocational college, he also took the delta exam at the University of Mannheim and was thus the only one in his year to study at a university without a high school diploma [8]. After a child support lawsuit took too much time, he was nevertheless financially enabled to study thanks to the BAföG advance payment procedure [9]. For a B.Sc. in economics with a focus on HR at the University of Hohenheim, he initially moved back to Stuttgart. Before his move, he donated several of his artworks to the social institutions in the Calw district where he lived. Some of them are still on display there today [10].
Alongside his studies, he built up his self-employment and has been a freelance artist since 2021. Since 2022 he has been a freelancer at ArtNight, where he leads workshops for acrylic painting [11]. He then moved to North Rhine-Westphalia for his Master's in Economics M.Sc. with a focus on Management & Innovation at Bielefeld University. There he is involved on a voluntary basis [12][13]. In his mid-twenties, Tom Stephan also began to create art with his language. Since 2023 he has been working as a freelance writer for several agencies [14][15]. He writes texts that are a combination of diary entries & slam poetry [16], takes on commissioned work and has regularly published articles [17][18][19][20] in anthologies since 2023. Tom Stephan improvises partially blind [21] in diverse styles & has been a student of concert pianist Andrei Fadeyev since 2023 [22]. After his Master's degree, he intends to do a free doctorate at a chair for business psychology. His main areas of interest are self-actualisation at work, job satisfaction, and new work[23].
Tom Stephan can now look back on hundreds of works of art created in various art movements [24].
Art exhibitions
2025 | Freizeitzentrum Stieghorst Bielefeld
2023 | 40 Works on the subject of portraits Online [25]
2016 | Galerie Rathaus Altensteig
2013 | Altes Rathaus e.V. Neubulach [26]
Publicly exhibited artworks

2022 – 2023 | Ristorante L'Inizio Stuttgart
seit 2019 | Studierendenwerk Hohenheim
2018 – 2019 | Bruderhaus Diakonie Altensteig
seit 2017 | Haus Haeften Altensteig
seit 2014 | Haus Terwiel Altensteig
seit 2011 | Landesbausparkasse Altensteig
Publications

2023 | 1 Work in Sechzehnseiten, Online-Literaturmagazin, Kein Verlag e.V. [27]
2023 | 1 Work in Anthologie Hilfe Weihnachten kommt, Verlag Herz und Gold [28]
2023 | 2 Works in Neue Literatur, August von Goethe Literaturverlag [29]
2023 | 2 Works in Poets of the new World, Verlag Philipp Sperling [30]
2023 | 1 Work in Jahrbuch 2023, Frankfurter Bibliothek [31]
2023 | 2 Works in Ukraine: Blau & Gelb, Edition Dorante [32]
2023 | 4 Works in Kunst-Kultur-Literatur Magazin, Online [33]
Memberships

seit 2023 | Bundesverband junger Autoren und Autorinnen e.V.
seit 2022 | Young Professional Network der deutschen Gesellschaft für Personalführung
Newspaper articles & interviews

2023 | Author profile at Sixteen Pages, online literature magazine [34]
2023 | Autobiographical blog post at Quarterl1fe [35]
2023 | Interview in the Art-Culture-Literature Magazine [36]
2013 | Newspaper article in the Schwarzwälder Bote [37]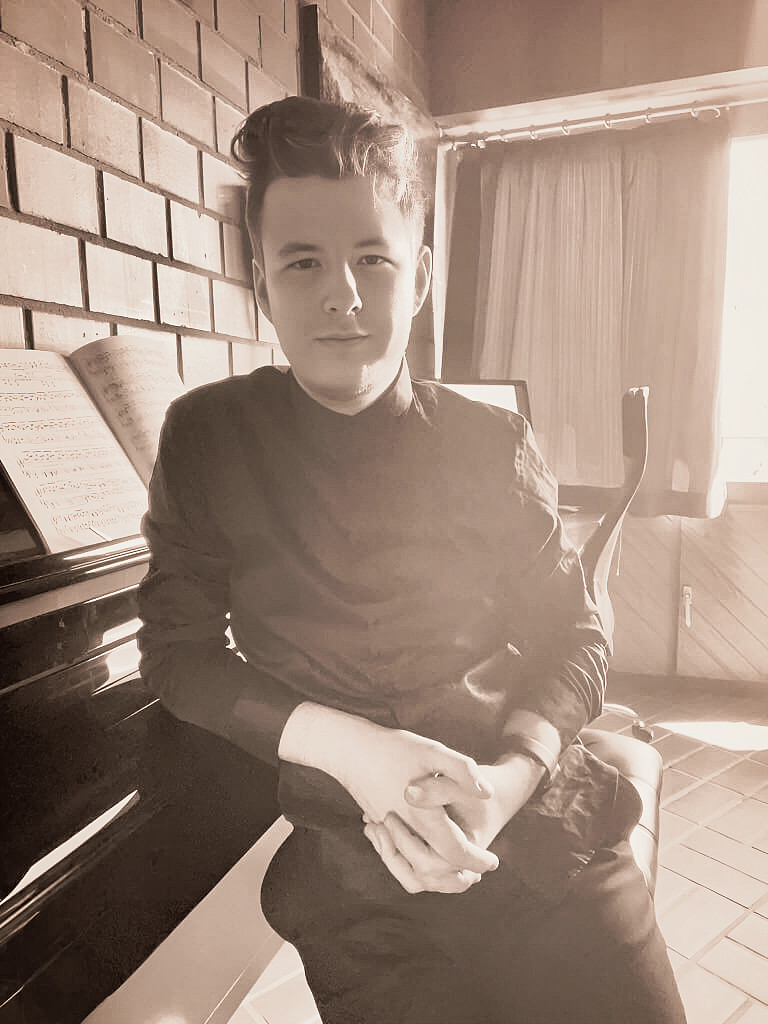 Subscribe to my newsletter!
References

YouTube-Video: Tom Stephan improvisiert zehn Variationen in f-moll [➚] (10.04.2021) Stuttgart. ↩︎
Zeitungsartikel vom 03.04.2014: Chance für jungen Künstler im Alten Rathaus [➚] Schwarzwälder-Bote, Neubulach.  ↩︎
Zeitungsartikel vom 03.07.2016: Auf sie wartet nun neues Terrain [➚] Schwarzwälder-Bote, Nagold. ↩︎
Zeitungsartikel vom 09.06.2016: Frühstück gibts gratis [➚] Schwarzwälder-Bote, Altensteig.  ↩︎
Zeitungsartikel vom 30.04.2014: Kräuter & Blumen stehen im Mittelpunkt [➚] Schwarzwälder-Bote, Altensteig. ↩︎
Zeitungsartikel vom 03.05.2016: Musical ist nächstes Projekt [➚] Schwarzwälder-Bote, Altensteig. ↩︎
Autobiografischer Blogbeitrag vom 09.07.2023: Auf mich allein gestellt [➚] im Quarterl1fe Blog Köln. ↩︎
Universität Mannheim: Deltaprüfung für Hochschulen in Baden-Württemberg [➚] Mannheim. ↩︎
Gesetze im Netz: Vorausleistungsverfahren § 36 BAföG. [➚] Bundesamt für Justiz. ↩︎
Dauerausstellung: Kunst von Tom Stephan im Christlichen Jugenddorf Haus Haeften [➚] Altensteig. ↩︎
ArtNight: Tom Stephan leitet Acrylmalworkshops in Bielefeld [➚] Realtainment GmbH Berlin.  ↩︎
Ehrenamtlicher Klavierunterricht für Menschen in sozialen Einrichtungen. Bethel Haus Arche [➚] Bielefeld ↩︎
k.a. ↩︎
k.a. ↩︎
k.a. ↩︎
Online-Beiträge: 8 Ausgewählte Textwerke von Tom Stephan [➚] 11.09.2023 ↩︎
Beitrag in Publikation: Franfurter Bibliothek 2022: Jahrbuch für das neue Gedicht [➚] Franfurter Verlagsgruppe. ISBN-13: ‎ 978-3826701108. Frankfurt.   ↩︎
Beitrag in Publikation: Neue Literatur 2022 [➚] August-Von-Goethe-Literaturverlag. ISBN-13: ‎ 978-3837226676. Frankfurt.  ↩︎
Beitrag in Publikation: Poets of the New World, Vol. 1. [➚] Philipp Spiering (Hrsg.) ISBN-13‏: ‎ 978-3347804647. ↩︎
Beitrag in Publikation: Ukraine: Blau & Gelb: Gedichte. [➚] Dirk Tilsner, Kurt Bott, Peter Frank, Herta Adnresen u.v.a.. Edition Dorante. ISBN-13: ‎ 978-3746092263. Norderstedt.  ↩︎
YouTube-Video: Tom Stephan improvisiert blind am Klavier [➚] (23.12.2022) Stuttgart. ↩︎
Musikzentrum Detmold: ANDREJ FADEJEW [➚] Detmold.  ↩︎
LinkedIn: Tom Stephans LinkedIn Profil [➚] Auf der Suche nach gemeinsamen Projekten. International. ↩︎
Werkverzeichnis: Überblick über die Schaffenswerke von Tom Stephan [➚] Online. ↩︎
Online-Kunstausstellung vom 11.09.2023: "40 Werke zum Thema Porträt" [➚] von Tom Stephan.  ↩︎
Zeitungsartikel vom 03.04.2014: Chance für jungen Künstler im Alten Rathaus [➚] Schwarzwälder-Bote, Neubulach.  ↩︎
Beitrag vom 30.09.2023 in Sechzehnseiten, Online-Literaturmagazin, [➚] Kein Verlag e.V. Freiburg.  ↩︎
Beitrag in Publikation: Anthologie Hilfe, Weihnachten kommt [➚] Herz und Gold Verlag GbR. ISBN-13: ‎ 978-3949656149. Bopfingen  ↩︎
Beitrag in Publikation: Neue Literatur 2022 [➚] August-Von-Goethe-Literaturverlag. ISBN-13: ‎ 978-3837226676. Frankfurt. ↩︎
Beitrag in Publikation: Poets of the New World, Vol. 1. [➚] Philipp Spiering (Hrsg.) ISBN-13‏: ‎ 978-3347804647. ↩︎
Beitrag in Publikation: Franfurter Bibliothek 2022: Jahrbuch für das neue Gedicht [➚] Franfurter Verlagsgruppe. ISBN-13: ‎ 978-3826701108. Frankfurt.  ↩︎
Beitrag in Publikation: Ukraine: Blau & Gelb: Gedichte. [➚] Dirk Tilsner, Kurt Bott, Peter Frank, Herta Adnresen u.v.a.. Edition Dorante. ISBN-13: ‎ 978-3746092263. Norderstedt. ↩︎
Beiträge im Onlinemagazin: #KKL Kunst-Kultur-Literatur Magazin [➚] ISSN: 2751-4188. Deutschland. ↩︎
Interview vom 23.09.2023: Tom Stephan im Onlinemagazin Sechzehn Seiten, [➚] Online-Literaturzeitschrift des KeinVerlag e.V. Freiburg.  ↩︎
Autobiografischer Blogbeitrag vom 09.07.2023: Auf mich allein gestellt [➚] im Quarterl1fe Blog Köln. ↩︎
Interview vom 31.08.2023: Gespräch mit Jens Faber-Neuling und Tom Stephan [➚] im #KKL Kunst-Kultur-Literatur Magazin. ISSN: 2751-4188 ↩︎
Zeitungsartikel vom 03.04.2014: Chance für jungen Künstler im Alten Rathaus [➚] Schwarzwälder-Bote, Neubulach. ↩︎